Behind The Scenes of Charleston's Oldest Lion, Bill Wilson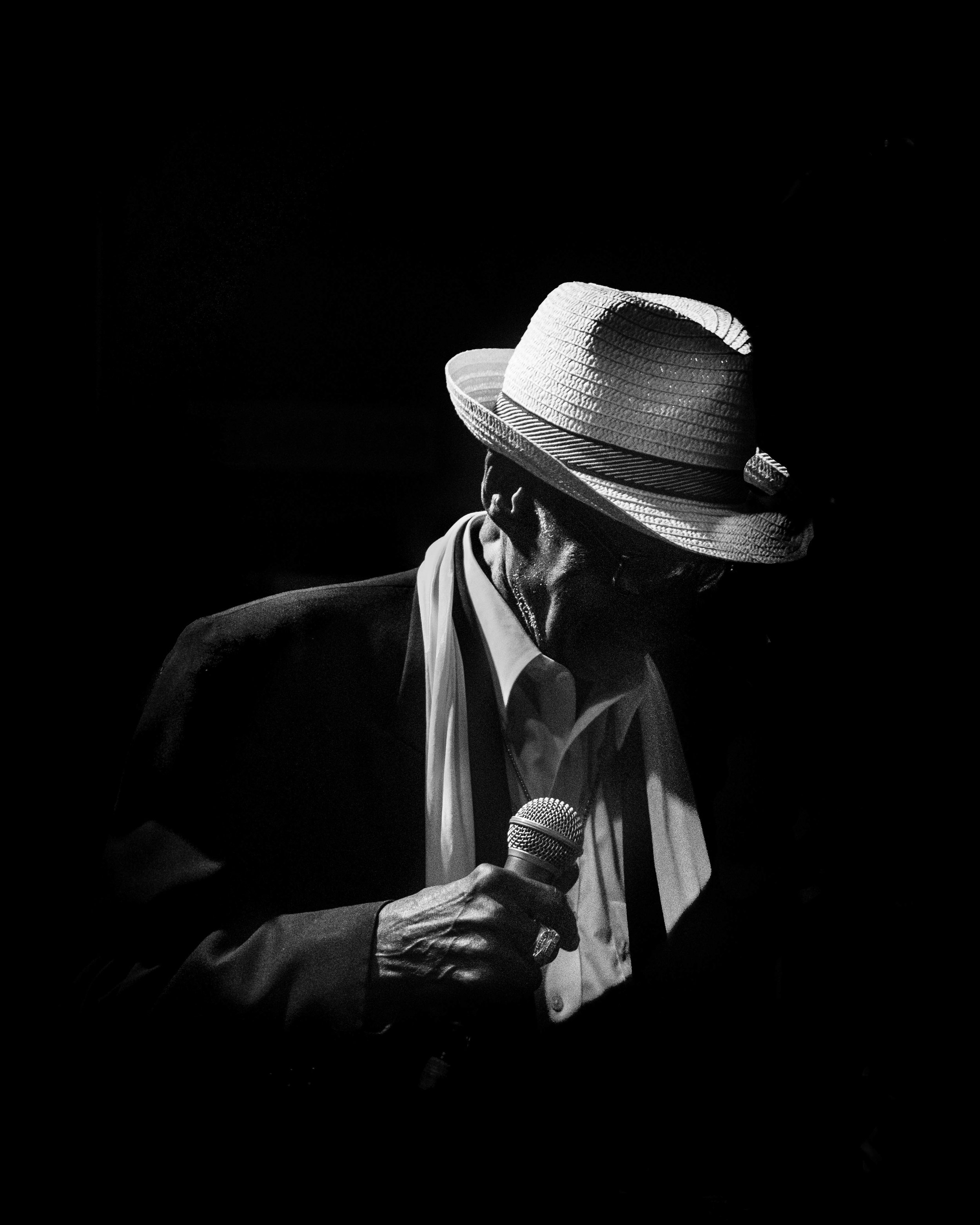 Charleston's Oldest Lion, Bill Wilson
Written by
Sanchez Tortuga
Soul/Funk singer Bill Wilson described as one of Charleston's most iconic musical torchbearers. The man who turns 77 this Christmas is passing his flame and tradition on to the younger generation by recording his first album as a writer, Stand Up! Bill's backup band includes a plethora of Charleston's best musicians, some who are in their 20's, from groups like Doom Flamingo, Terraphonics, The Reckoning, Human Resources, ASAP Rocky, and more. Taylor Czerwinski and I went on assignment for a behind- the- scenes look of his album release party.
We showed up at Lo-Fi brewery around 7:40 pm thinking we would be 40 minutes fashionably late to the pre-party but still on time for the 8:00 pm limo departure. What we did not know is that the man himself would outclass us by not showing until after 8:30 pm. Dressed to the nines in royal blue pants, white linen jacket, white hat, and a scarf that swayed just above his knees as he strolled into his pre-party singing out a loud "Wuz Up Dawg?!" Bill with excitement, made his way around the brewery greeting all who had been waiting for him.
Bill was enjoying his high and chatting it up with the ladies, so I decided to catch up with Brian Compton, keyboardist and driving force behind putting the album together. Brian told me he knew Bill was a special talent after having just one wedding gig together. Brian also realized that the way in which Bill parties, even late into his 70's, that he needed to prioritize the making of the album before Bill passes his prime. Apparently, Bill can get after a good time better than any of the other band members, so Brian was sure to keep a close eye to make sure Bill paced himself for the three-set show he had awaiting that night.
Socializing over at Lo-Fi I noticed musician and producer, Matt Zutell who helped produce and mix the album at his studio, Coast Records. According to Matt they only expected to record four songs in two days, but because of the immense talent present in the backup band and Bill's ability to sing his pre-written lyrics over whatever beat produced, they were able to get ten tracks laid down. Some of these tracks were recorded in a single take.
I progressively made my way over to the bartender, Jason who is also one of Bill's bandmates in Side Piece. We exchanged pleasantries, he pours me my second Glitter Pony, and we light up a left-handed cigarette. I finish my beer as the limo rolls up and he goes on to tell me with a smirk on his face that the Glitter Pony is pushing 9% in alcohol. Which to Lo-Fi's credit was smooth and delicious and I had no idea why my buzz was coming on so fast until just then.
To no surprise, Bill jams out to his perfect record in the limo, truly living it up and having the time of his life over the finest Champagne. As we come out of the limo, Taylor is in the perfect position, now alone with Bill taking his portrait as the crowd is waiting, cheering for him to come out. As he finally makes his appearance, he is slinging back his champagne and welcomed to The Commodore with hugs, smiles, and embraces of friends, loved ones and fans.
A little worried about my name possibly not being on the guest list, I decided to follow and sneak in the back door as if I was one of the band members. Upon entering I examined the crowd; it is not unlike The Commodore to see a dance floor full of 40-year-old swingers, but tonight at least 20% of the crowd was pushing 70. Regardless of you what you might be thinking I promise you these golden gals came to party. Bill Wilson has fangirls stretching over five decades in age, and they are not afraid to show him love and cut a rug on the dance floor.
The first set of the night was The Distinguished Gentlemen (ft. Bill) playing the classics of the 60's and 70's. The second set progressed with Side Piece (ft. Bill) playing the soul and funk of the 70's and 80's. Then Bill's third and final set showcased his new original album, "Stand Up!," and it was by far the best set of the night. Brian Compton accomplished his job of taming the lion enough to keep him roaring through the night while playing keyboard right by his side.
The two songs that turned the club up the most were "Smile" and "Stand Up!" It was at this point in the night when I thought how great it must be to be loved so much this late in one's life.
Enjoy the full gallery below.
All photos © 2018 Taylor L. Czerwinski & 9 To 5 Magazine